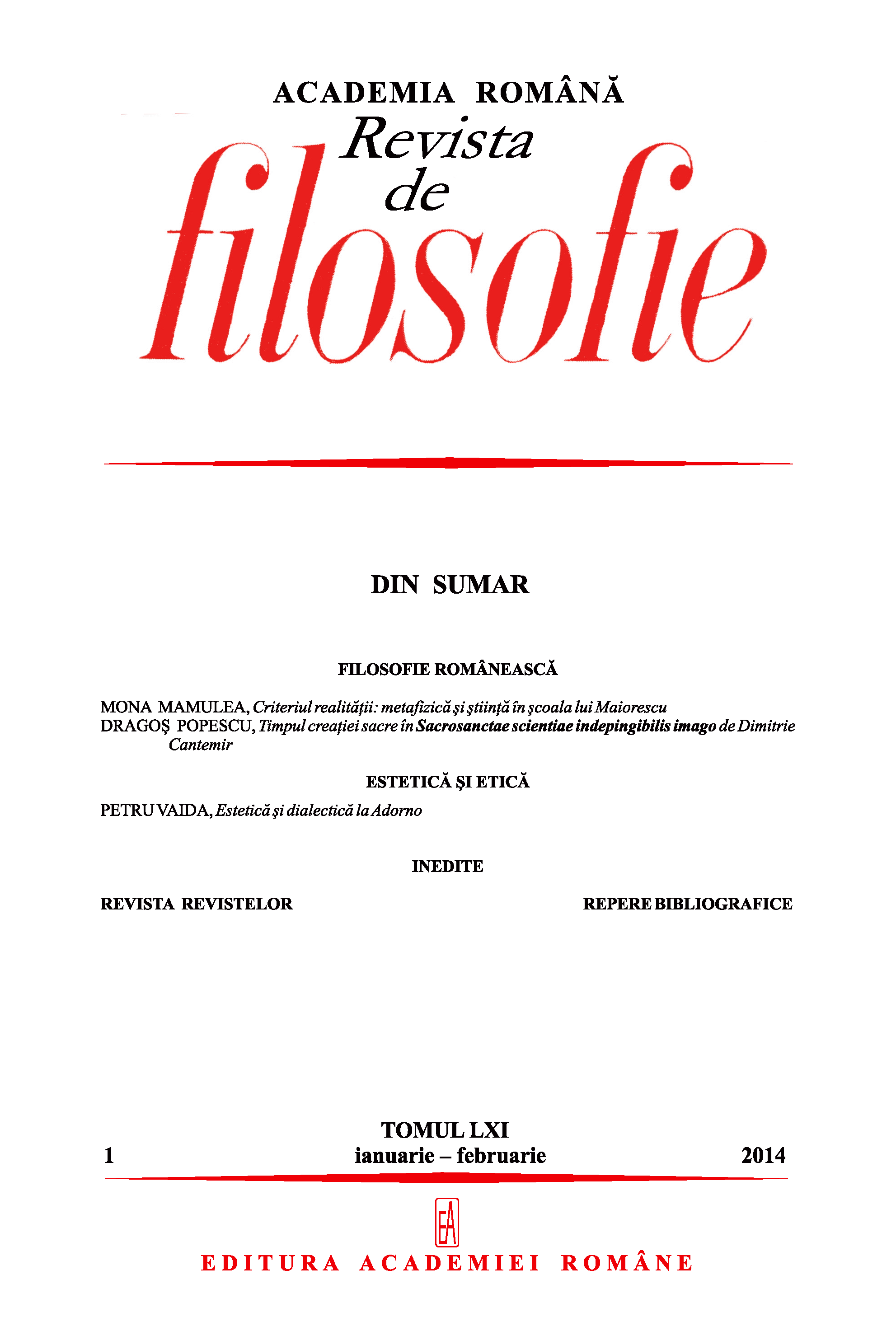 Editura Academiei Române
(Romanian Academy Publishing House)

ISSN: 0034-8260
Frequency: Six issues per year




CURRENT  ISSUE:




EDITORIAL COMMITTEE


EDITORIAL BOARD
Director: ALEXANDRU SURDU, member of Romanian Academy
Chief Editor: ȘTEFAN-DOMINIC GEORGESCU, Institute of Philosophy , Bucharest
Members: IOAN BIRIȘ, ION CEAPRAZ, VIRGIL CIOMOŞ, AUREL CODOBAN, MIRCEA DUMITRU

(correspondent member of the Romanian Academy)

, MIRCEA FLONTA (correspondent member of the Romanian Academy), CONSTANTIN GRECU, PETRU IOAN, ILIE PÂRVU (correspondent member of the Romanian Academy), ION TĂNĂSESCU, VASILE TONOIU (member of Romanian Academy), GHEORGHE VLĂDUŢESCU (member of Romanian Academy).

INTERNATIONAL ADVISORY COMMITTEE
PATRICIA CHURCHLAND (California University, San Diego, USA), TIM CRANE (Cambridge University, UK), P.M.S. HACKER (Oxford University, UK), TED HONDERICH (University College, Londra, UK), HANS LENK (Karlsruher Institut für Technologie, Germany), WILLIAM NEWTON-SMITH (Oxford University), ILKKA NIINILUOTO (University of Helsinki, Finland), DAVID ROSENTHAL (City University of New York, USA),  CALVIN O. SCHRAG (Purdue University, USA), PETER M. SIMONS (Trinity College, Dublin, Irleland), BERNHARD WALDENFELS (Ruhr-Universität, Bochum, Germany). 


EDITORIAL STAFF
Editors:
MONA MAMULEA, OVIDIU GRAMA,
MARIUS-AUGUSTIN DRĂGHICI, TITUS LATEȘ,

              VICTOR EMANUEL GICA (website)

Editor (Romanian Academy Publishing House): ADRIAN MIRCEA DOBRE
Revista de filosofie appears has six issues per year and contains studies, articles and information developed by specialist academic authors in the field.

Revista de filosofie publishes studies of general philosophy (ontology, logic, methodology, gnoseology, epistemology, ethics, aesthetics, axiology, philosophy of science, mind, culture, history, law, religion, language etc).

Revista de filosofie does not publish studies on the problems of everyday politics, economics, sociology, psychology and pedagogy, which are covered by other publications of the Romanian Academy.

Revista de filosofie gives special attention Romanian philosophy, comparative analysis and placement of Romanian philosophers contributions in European and world context.

Revista de filosofie is not partisan to any schools, guidelines or methodologies; its purpose being to ensure both their knowledge and rational debate, and to stimulate original creation in the field.

Revista de filosofie is not responsible regarding the accuracy of the data and information from articles published under the signature of its employees and does not publish personal criticism or intolerant polemics against any person or philosophical orientation.

Revista de filosofie publishes only  selected studies and editorial selected articles. The themes of previously issues will be announced in advanced time. Unpublished manuscripts are not returned.
Revista de filosofie contains the following headings:
Studies and research (groups of Romanian philosophy, philosophy of universal logic, philosophy of science, culture, etc..)

Essays, philosophical views and notes 

The debate: ideas and concepts for the twenty-first century 

Dialogue: conversations with world figures of contemporary philosophy, philosophical Mapamond 

The objective: philosophical books and events 

Novel. Refunds. Anniversaries and commemorations 

References. Highlights references. Books received at the editorial. Journal of philosophy journals 

Scientific life. Notes and information. Authors.

RECOMMENDATIONS FOR AUTHORS
The authors proposed materials for publication are asked to follow the recommendations below:
Papers will be presented in double form: a cd processed, corresponding typing rules used in  Editura Academiei Române (Romanian Academy Publishing House), and a separate written on A4 paper, in two rows, leaving a margin of 3 cm to the left of the page and 1 cm to the right. After the title will be mentioned and the author's name in capital letters on a separate sheet attached to the paper, will be recorded name, postal and electronic, phone number of the principal author for any necessary improvements and completion contacts for printing of the manuscript. Not admit any differences between the written form of the work and as recorded on cd.

The text of the paper itself will be accompanied by a summary in English of up to 10 lines and a short CV. 

Bibliographic notes at the end of the paper will be placed in alphabetical order. The books will be mentioned in the order the author (-II). Title written in italics, place of publishing, publisher, year, volume, page (them) to which it alludes. 

Manuscripts will be sent to editors at the email adress:

redactia@institutuldefilosofie.ro

 and "Revista de filosofie" at: 76 117. Bucharest. Calea 13 Septembrie nr. 13. Sector 5. 

Editorial corrections and changes requested will be introduced both in the written text and the electronic media with consent and careful authors. Cds sent to the editorial work will be returned after the appearance of statements once the incumbent authors.

CONTACT
Address: September 13 no. 13, Sector 5,
050 711, POB 1-137, Bucharest
Tel: 021.4105659
Email:

redactia@institutuldefilosofie.ro

INDEXED IN: